E4S Cornerstone Hub
Defining EHWB
Emotional health and Wellbeing in Primary and Secondary education is about learning the characteristics of positive mental health and wellness, and exploring how pupils can best maintain these. Teaching ways to recognise challenges to emotional health and helping students develop strategies to cope is of paramount importance. Universal emotional health and wellbeing curriculum within an effective whole school approach is a truly proactive way in which schools can make a real difference to the lives of pupils.
There is clear evidence of positive impacts on: academic learning; Staff and pupil wellbeing; the development of social and emotional skills and attitudes that promote learning in school and throughout life.
The prevention of mental health problems such as depression, anxiety and stress, improving school behaviours and reductions in risky behaviour is also a key element of this cornerstone. There is significant evidence that good emotional health and wellbeing also contributes to good physical health.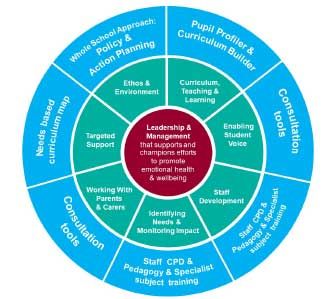 Guidance and Policy
Local and National Guidance and Policies.
Training
Training for EHWB.
Resources
Useful resources for EHWB.
DofE TLPs
Department of Education Teacher Learning Pods.